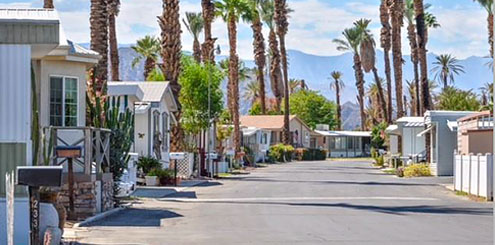 Stuff your portfolio this Holiday Season with Manufactured Home Parks
Stuff your portfolio this Holiday Season with Manufactured Home Parks
December 7, 2018

 I've been involved with investing in Manufactured Homes Parks (MHPs) for the last few years.  I was looking to find an "all weather" real estate niche to diversify into that would provide solid passive cash flow and hold up well in downturns.  With the recent stock market volatility, MHPs are a constant reminder of an asset class that deserves your attention for a variety of reasons. 
MHPs have been one of the top commercial real estate asset classes in return performance for the past 25 years (1994 – 2017) with a return of 13.27% vs the S&P 500 stock index of 7.54%. Current underlying themes and trends are supporting what we expect to be continued strength not only now but for the long haul (review REIT performance data here).
5 Reasons we like MHPs now !
1) Downside protection – From 2007 to 2009 (our last major downturn), MHPs were the only commercial real estate asset class that had a positive return.  The S&P 500 was down a whopping 22% that year and MHPs returned .47%.  As we get into the later stages of a long up cycle as we are now, it's important to have assets in your portfolio that can help buffer the volatility and potential downturns of assets like stocks.
2) Big Money at the table – Sam Zell (one of the largest owners of MHPs nationwide) and Warren Buffet, famous stock investor and one of the wealthiest investors on the planet (owns Clayton Homes, the largest builder of MHPs nationwide) have been in the space for some time.  But now big private equity firms like Blackstone Group, one of the largest private equity firms in the world, is buying up portfolios of park properties across the country.  Read latest Bloomberg article here.
3) Lack of Supply – Although there are about 50,000 parks nationwide, there are only a handful of new parks approved each year.  A low tax base, lack of zoning and negative historical stigmas are headwinds to cities and municipalities approving more.  Additionally, the supply dwindles with higher and better use opportunities for developers to convert them to apartments, industrial parks, etc.
4) Demand for housing affordability – Everywhere we read of the higher costs of housing and lack of affordability.  Couple that with wages not keeping pace and large segments of the population (Boomers) retiring with little savings and reliance on social security there are few places for these folks to turn.  Operators that acquire and improve parks (add amenities, safety features and overall appearance) are providing an affordable solution to these folks.
5) Fragmented Markets – Up to 80% of MHPs are in the hands of small independent owners (mom and pops) many who have acquired or inherited them and had little knowledge, skills or capital to manage or improve the asset.  Larger more skilled operators have moved into the space with the capital to make value add improvements, streamline costs and optimize the value of the parks.
How to Play it as an investor
We think the best ways to get a stake in the MHP market as a passive investor looking to diversify is through syndication deals.  Here you pool your assets with other investors with a sponsor / operator that is an expert at acquiring and optimizing MHPs to create ongoing cash flow for the investor with opportunities for capital events along the way to return equity and profits from park refinances or sales.  We favor larger operators that can gain more scale and efficiency, acquiring parks in several cities and states across the country to provide additional diversification protection.
Return Expectations
As of this writing operators are targeting 8% to 10% annualized cash on cash returns with long term total returns including cash distributions and equity gains in the mid to high teens.  Many offer preferred returns that benefit the investor by paying them first before the operator gets their profit split.  Preferred returns are not guaranteed but are the next best thing in aligning the investors interest first.
Vetting Sponsor / Operators
Look for operators that have been operating successfully in the space with a good long-term track record of adding value and optimizing their parks. We like to see MSA (large city) concentration to enable park operators to gain scale and efficiency by having several parks within proximity to each other.  They should have an acquisition strategy that makes sense with skin in the game.